Editor's Note: Via Google Translate, original here.
From: Nova Paraguay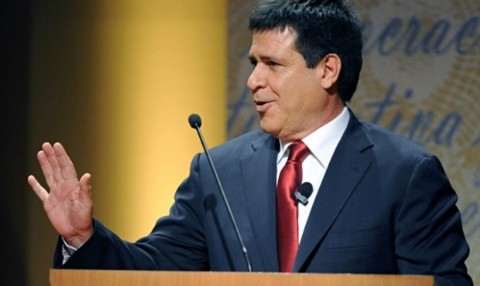 According

to research the daily Gazeta de Povo, Cartes is the largest smuggler of South America.
According to research by the Brazilian journalists Mauri Koni and Diego Antonelli (Gazeta do Povo) cigarette has replaced drug trafficking as a catalyst for political power in Paraguay. President Horacio Cartes now occupies the position Alfredo Stroessner was still the biggest winner for cigarette smuggling in Latin America.
General Alfredo Stroessner lost the post of supreme authority of Paraguay in 1989 after 35 years of corruption, repression, smuggling and drug trafficking. Army Commander, General Andrés Rodríguez controlled the economic engine of the dictatorship that was fed by Colombian drug cartels. In a coup, overthrew Stroessner and Rodríguez took over the country until 1993, when an unusual entrepreneur started a business that would replace the drug trade as a catalyst for political power. It is no coincidence that 20 years later take the place of the generals.
Exponent of the cigarette industry manufactured for smuggling, Horacio Manuel Cartes Jara took over the presidency of Paraguay on 15 August 2013. It was a modest supplier of cigarettes to open the Tabacalera del Este (Tabesa). Smuggling has proven to be a good business and the Paraguayan factories have grown from three in 1993 to 32 now.
Cartes grew up with his industry. He made a fortune and won the presidency. But not only the president of Paraguay. It is also the largest recipient of cigarette smuggling.