NIST Announces CyberSeek, An Interactive Resource for Cybersecurity Career Information
From: NIST
The U.S. Commerce Department's National Institute of Standards and Technology (NIST) today introduced CyberSeek (link is external), an interactive online tool designed to make it easier for cybersecurity job seekers to find openings and for employers to identify the skilled workers they need.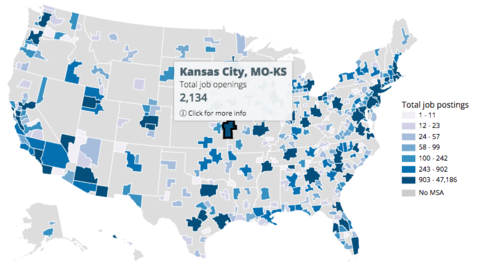 CyberSeek was announced at the 2016 NICE Conference in Kansas City, Missouri, by Rodney Petersen, director of the National Initiative for Cybersecurity Education (NICE), which funded development of the tool. The NIST-led NICE focuses on cybersecurity education, training and workforce development.
The nation's rapidly growing cybersecurity jobs market has many more openings available than trained workers to fill them. For example, there are 128,000 positions for "Information Security Analysts," but only 88,000 workers currently employed in those positions—a talent shortfall of 40,000 workers for cybersecurity's largest job, according to analytics firm Burning Glass Technologies (link is external). Jobs requesting cloud security skills remain open 96 days on average—longer than any other IT skill.
"This interactive tool will assist its users—students, employees, employers, policy makers, training providers and guidance counselors—to explore opportunities they may have never considered," said Petersen. "It can also help us to meet NICE's goal of fostering a larger workforce to narrow the cybersecurity employment gap."
The CyberSeek tool fills in knowledge gaps so policy makers, employers, security professionals and others will have greater visibility into the demand for cybersecurity professionals around the country. It will allow them to see the skills and types of workers that employers are looking for, as well as the true supply of professionals to fill those positions.
CyberSeek looks somewhat like a weather map, but instead of showing relative temperatures across the country, varying shades of color reveal relative concentrations of cybersecurity job postings and worker supply. CyberSeek incorporates job demand data collected by Burning Glass and job supply data from the Bureau of Labor Statistics (link is external) for the position "Information Security Analyst" and from cybersecurity certification bodies.
Within the interactive map, users can search by state or more than 300 metropolitan areas. When viewing the map in either mode, they can see total job openings, worker supply, supply/demand ratio, a quotient for geographic concentration of workers and an area's top cybersecurity jobs by title.
Using the Kansas City metro area as an example, CyberSeek reveals that in the past year there were 2,134 job openings and 6,829 employed workers. Those figures represent a higher-than-average cybersecurity workforce supply than the rest of the nation; and a lower concentration of cybersecurity job demand when compared with the national average. The Kansas City area's top three positions are cybersecurity analyst/specialist, cybersecurity engineer and auditor.
For employers seeking to move or expand operations, the CyberSeek map can help identify locations with a large base of cybersecurity employees. Job seekers can scout for openings by the size of a metropolitan area.
The interactive heat map is accompanied by the Career Pathway, which provides information on different types of positions to help students, job seekers and workforce trainers. Career Pathway features information on common job titles, salaries, online job openings, in-demand skills, education and certifications related to careers in cybersecurity.
The site also illustrates how an individual can advance in a cybersecurity career, starting with four different entry-level positions and showing typical paths to mid- and advanced-level jobs. The Career Pathway incorporates job categories from the NICE Cybersecurity Workforce Framework (link is external), which provides a common language to describe cybersecurity work.
CyberSeek was created by CompTIA (link is external), a nonprofit trade association for IT professionals and organizations, and its partner, labor market analytics firm Burning Glass Technologies. It is the product of the first year of a three-year grant awarded by NIST to CompTIA. The first-year grant was for $249,000. The company has received its second-year funding of $110,000 to refine and expand the tool.
NICE is a public-private partnership between government, academia and industry that promotes a robust network and integrated system of cybersecurity education, training and workforce development.
As a non-regulatory agency of the U.S. Department of Commerce, NIST promotes U.S. innovation and industrial competitiveness by advancing measurement science, standards and technology in ways that enhance economic security and improve our quality of life. To learn more about NIST, visit www.nist.gov.