Data Broker Giants Hacked by ID Theft Service
From: Krebs on Security
An identity theft service that sells Social Security numbers, birth records, credit and background reports on millions of Americans has infiltrated computers at some of America's largest consumer and business data aggregators, according to a seven-month investigation by KrebsOnSecurity.
The Web site ssndob[dot]ms (hereafter referred to simply as SSNDOB) has for the past two years marketed itself on underground cybercrime forums as a reliable and affordable service that customers can use to look up SSNs, birthdays and other personal data on any U.S. resident. Prices range from 50 cents to $2.50 per record, and from $5 to $15 for credit and background checks. Customers pay for their subscriptions using largely unregulated and anonymous virtual currencies, such as Bitcoin and WebMoney.
Until very recently, the source of the data sold by SSNDOB has remained a mystery. That mystery began to unravel in March 2013, when teenage hackers allegedly associated with the hacktivist group UGNazi showed just how deeply the service's access went. The young hackers used SSNDOB to collect data for exposed.su, a Web site that listed the SSNs, birthdays, phone numbers, current and previous addresses for dozens of top celebrities — such as performers Beyonce, Kayne West and Jay Z — as well as prominent public figures, including First Lady Michelle Obama, CIA Director John Brennan, and then-FBI Director Robert Mueller.
Earlier this summer, SSNDOB was compromised by multiple attackers, its own database plundered. A copy of the SSNDOB database was exhaustively reviewed by KrebsOnSecurity.com. The database shows that the site's 1,300 customers have spent hundreds of thousands of dollars looking up SSNs, birthdays, drivers license records, and obtaining unauthorized credit and background reports on more than four million Americans.
Frustratingly, the SSNDOB database did not list the sources of that stolen information; it merely indicated that the data was being drawn from a number of different places designated only as "DB1," "DB2," and so on.
But late last month, an analysis of the networks, network activity and credentials used by SSNDOB administrators indicate that these individuals also were responsible for operating a small but very potent botnet — a collection of hacked computers that are controlled remotely by attackers. This botnet appears to have been in direct communications with internal systems at several large data brokers in the United States.  The botnet's Web-based interface (portions of which are shown below) indicated that the miscreants behind this ID theft service controlled at least five infected systems at different U.S.-based consumer and business data aggregators.

The botnet interface used by the miscreants who own and operate ssndob[dot]ms
DATA-BROKER BOTNET
Two of the hacked servers were inside the networks of Atlanta, Ga.-based LexisNexis Inc., a company that according to Wikipedia maintains the world's largest electronic database for legal and public-records related information. Contacted about the findings, LexisNexis confirmed that the two systems listed in the botnet interface were public-facing LexisNexis Web servers that had been compromised.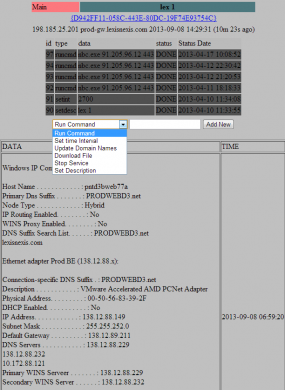 One of two bots connected to SSNDOB that was inside of LexisNexis.
The botnet's online dashboard for the LexisNexis systems shows that a tiny unauthorized program called "nbc.exe" was placed on the servers as far back as April 10, 2013, suggesting the intruders have had access to the company's internal networks for at least the past five months. The program was designed to open an encrypted channel of communications from within LexisNexis's internal systems to the botnet controller on the public Internet.
Two other compromised systems were located inside the networks of Dun & Bradstreet, a Short Hills, New Jersey data aggregator that licenses information on businesses and corporations for use in credit decisions, business-to-business marketing and supply chain management. According to the date on the files listed in the botnet administration panel, those machines were compromised at least as far back as March 27, 2013.
The fifth server compromised as part of this botnet was located at Internet addresses assigned to Kroll Background America, Inc., a company that provides employment background, drug and health screening. Kroll Background America is now part of HireRight, a background-checking firm managed by the Falls Church, Va.-based holding company Altegrity, which owns both the Kroll and HireRight properties. Files left behind by intruders into the company's internal network suggest the HireRight breach extends back to at least June 2013.
An initial analysis of the malicious bot program installed on the hacked servers reveals that it was carefully engineered to avoid detection by antivirus tools. A review of the bot malware in early September using Virustotal.com – which scrutinizes submitted files for signs of malicious behavior by scanning them with antivirus software from nearly four dozen security firms simultaneously — gave it a clean bill of health: none of the 46 top anti-malware tools on the market today detected it as malicious (as of publication, the malware is currently detected by 6 out of 46 anti-malware tools at Virustotal).